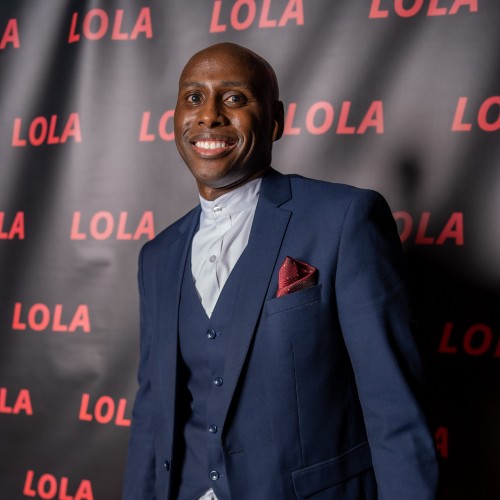 Award winning filmmaker Antoine Allen is making an impact with his new female boxing film entitled "Lola," which is currently streaming for free on Tubi TV. The film packs a powerful emotional punch. It features actress Taja V. Simpson as the lead character. She is best known for her current role on Tyler Perry's hit TV show "The Oval." Taja V. Simpson gives a stirring performance as Lola. We sat down with the director and writer of "Lola," Mr. Antoine Allen, for an exclusive interview.
Congratulations on your success thus far. For people who are not familiar with you, tell us about yourself.
I had dreams like any other kid growing up, and it was those same dreams that allowed me to break through every obstacle in my path. Despite growing up poor in Jamaica, Queens, I was already rich with potential. I refused to let that define my future, I moved forward with a passion, drive, and tireless dedication that has now become synonymous with my brand Antoine Allen Films.
I began my career in the music industry, successfully managing independent hip-hop artists for many years. During that time, I had several experiences that opened my eyes to the fact that I had more to offer. It was at this time that the phrase "dream big or don't dream at all" really hit hard.
Foregoing the traditional film school route, I began educating myself on all creative, technical, and business aspects of the process of the film industry and I never looked back.
Which filmmakers have inspired or influenced you?
The filmmakers who have definitely inspired me are Spike Lee and Tyler Perry. They are legends.
Take us through the filmmaking process. How would you describe your approach?
First, I come up with a story that I feel will make an impact. I love to make movies that strike an emotional chord. Next, I get together with my writing team to work on the screenplay. From there I produced the film for the world to enjoy.
What is it about the Lola character that has attracted so many people to film?
I struck an emotional chord with the "Lola" film and it's something that people have not seen before in the history of the film industry. We've never had an Africa American female boxing movie franchise. I am proud of myself and my team for this.
What were some of the challenges you encountered making "Lola?"
One of my biggest challenges with preparing to film my female boxing feature film LOLA was when I went to the doctor for a check-up, because I was having headaches. I never went back home. I was on the borderline going into a diabetic coma. This was the result of not taking care of myself and thinking that I had all the time in the world. I was so wrong. I asked God to please let me finish my movie. I had invested so much time and money into this film project for me not to continue. I did not want that. I was able to finish the movie. I took six months off from work after I wrapped up my film. In those six months, I exercised, ate healthier and put my health first. And after it was all said and done I lost 100 pounds and now look incredible. Health is very important.
Will there be a sequel to "Lola?"
Yes! I will start filming "Lola 2" soon and it will be released in 2022. Stay turned
What other genres of movies will you be dealing with in the future?
I have a few holiday/Xmas movies in the pipeline.
Where do you see yourself 5 years from now?
I am planning to build a film school. That will help a lot of kids not only learn to be a filmmaker, but also teach them the business side of the movie industry. Most film schools don't teach this side of the industry.
Lastly, remind everyone where they can watch "Lola" now and give some final thoughts for our readers.
Please go to Tubi Tv and watch my powerful female boxing feature film LOLA for free. Distribution is courtesy of Homestead Entertainment.