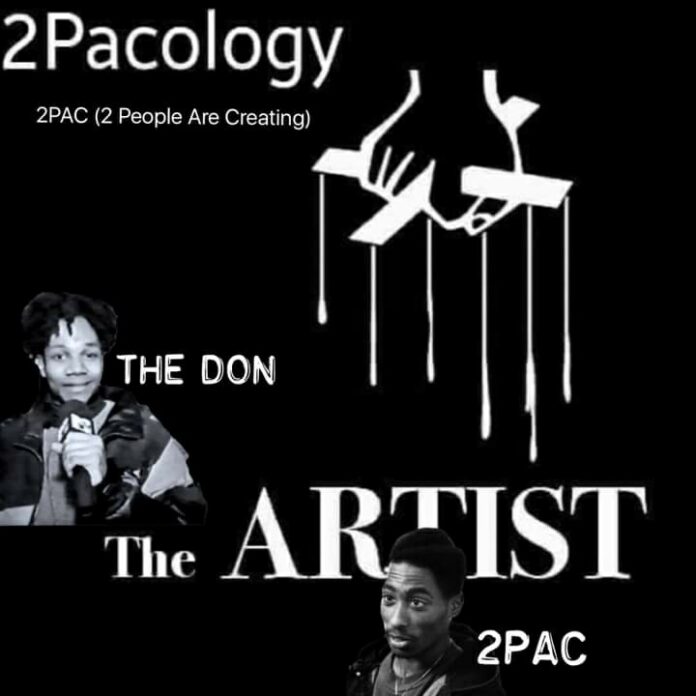 Donovan "The Don" Henry's book 2PACOLOGY THE ARTIST, out on BarnesandNoble.com, shares the blueprints for iconic success used by Tupac Shakur and many of Hip Hop's biggest-selling artists in the 1990s. The Don, who was Tupac's Artist Development Coach and Image Consultant Coach for his first six albums including the eponymous The Don Killuminati: The 7 Day Theory, unveils many marketing strategies that record labels don't want revealed. He is available for workshops, book readings and lectures.
Among the secrets exposed in the tell-all book is the origin and meaning of Tupac's alias 2PAC. An acronym for 2 People Are Creating, 2PAC is a reference to Tupac and The Don's creative partnership. Their teaming began in true Hollywood style motif as two teenagers who embarked on a journey in pursuit of global acclaim. They met in 1989 on the blockbuster Budweiser Superfest stadium tour. The Don was a dancer, choreographer, and image consultant for LL Cool J, and Tupac was a dancer and roadie for Digital Underground. Impressed with the work The Don was doing with LL, Tupac enlisted the young music executive to develop a five-year plan to make him the G.O.A.T., greatest of all time.
2PACOLOGY THE ARTIST is the first ever look inside the mind that brought the world numerous multi-million dollars' platinum-selling recording artists. The Don developed the concepts, skills and methodologies it takes to become an iconic legend. The Don who conceptualized the process for Tupac's ThugLife Theory as the Muse of 2PAC and the blueprints for LL Cool J's G.O.A.T. formula a Triple Threat Artist career unlocks the never-before-told insiders stories.
Tupac Shakur's Artist Development and Image Consultant Coach Donovan "The Don" Henry has written a music industry manual for Artists aspiring to become successful entrepreneurs in Hip Hop industry. In his book, 2PACOLOGY THE ARTIST, available on BarnesandNoble.com, The Don walks readers through the strategies he conceptualized to help the iconic rapper achieve The Greatest of All Time status in five years.
2PACOLOGY THE ARTIST explains how The Don's G.O.A.T. plan incorporated aspects of his backstory Thug-Life Theory works with other artists, studies of Niccolo Machiavelli's book The Prince, and the backstories of his and Tupac's personal hardships inspired his development of the personas and concepts for Tupac's first five albums. In acknowledgment of The Don's vision and their collaboration, Tupac developed the pseudonym 2PAC, an acronym for "2 People Are Creating." 2PACOLOGY THE ARTIST's narrative is intertwined with quotes, lists, and codes that offer artists steps, philosophies, and models to follow. 
In the "Don't Call it a Comeback" chapter, The Don discusses being recruited by Russell Simmons in 1989 to rebrand LL Cool's image preceding the release of the 1990 Mama Said Knock You Out album.
The Don describes recommending that Marley Marl remix LL's "Jingling Baby," LL abandon his then trademark Kangol hat, and intensify his efforts to appeal to female fans by advising him to "lick his lips at the end of any sentence while doing TV interviews and using sexual innuendos as humor."
The root of the 2PAC and The Notorious B.I.G. beef is explained in the "Kopy Katz Era" chapter. The Don writes that 2PAC was grooming The Notorious B.I.G., teaching him about his Thug Life Mafioso style and stage presence, and planned to sign him to his future label. However, B.I.G. signed with Sean "Puffy" Combs' Bad Boy Records instead and plagiarized 2PAC's concepts for B.I.G's Ready 2 Die album and marketing campaign.
About Donovan "The Don" Henry
With more than 30 years in the music business, Donovan "The Don" Henry has produced for many platinum-recording artists, television sitcoms, talk shows, films, and commercials for product promotion and development in domestic/international markets. He is personally responsible for artist development, casting, treatments of movement, and image consulting in over 300 various productions of film/video internet technology, digital media and television spaces. As a rigorous passionate music enthusiast with creativity and innovation talent to create content for both monetization and marketing purposes. Co-founder of 2PAC and only survivor that tells the story in depth full disclosure of the creation process used to spawn the careers of numerous 90's Hip-Hop music moguls. As the creator of 2PAC's Thug Life Theory & GOAT Formula Donovan The Don Killuminati (named on one of the best-selling albums of all time) gives you a look behind the velvet rope. Two people together they dream of a future where people can be free and then, with courage, set sail to find it. This inspiration true story of the horrid conditions that sparked a world-wide movement "Thug Life Theory" and the historic impact that Thug life had on many generations of the people caught in its path;
Omerta`
First condition I made Pac swear never to mention me in credits nor interviews moving in silence was my philosophy and I wanted complete anonymity.
Second stipulation for helping Pac become G.O.A.T. was my half of proceeds would go to a foundation for Inner City kids after school boy & girls club of Creative Arts development in every major city.
Third specification was Pac had to follow all ten Thug Life Theory Codex rules unconditionally.
Non-Fiction: Business, History, True Crime, Pop Culture, Biographies, Art & Music Entertainment
Book Synopsis includes Memoirs of The Don Killuminati an orphan from the gully Brooklyn streets who survived by fearless wits and desire to save the world. After years of abuse at the hands of his mother and alcoholic-father he escapes to the cold Brooklyn streets trying to break into the music industry driven by vengeance and anger. The Don and Tupac cross paths in an unfamiliar world, a world forever changed by their combined forces. The Don with Tupac join forces under the persona 2PAC an acronym that means Two People Are Creating Donovan 'The Don' Henry & Tupac Shakur. Est. in 1989. sought out new adventures in an industry at its pinnacle Golden Age. The Adventure begins in true Hollywood style movie motif as two teenagers embark on a journey to prove or rather spark the world awareness of their existence.
Connect with The Don Media Contacts
www.linkedin.com/in/donovanhenry
https://www.imdb.me/thedonkilluminati
@lamthedonkilluminati
https://www.youtube.com/TheDoncer