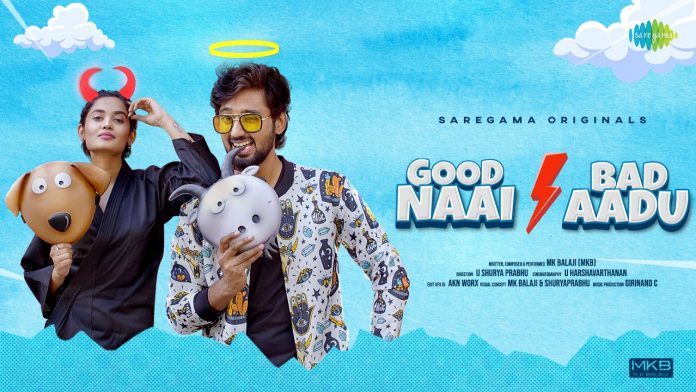 Double standards are toxic yet common in our everyday life. One such stand is from a group of people who claim to be animal lovers but reckon eating some animals as completely normal. MK Balaji aka MKB's song takes a fun dig at this group through his song "Good Naai Bad Aadu" translating to Good Dog Bad Goat. The song is in Tamil – an Indian Language (has CC in English) but addresses a topic that can be related with the global audience.
Good Naai bad Aadu takes a comical stance at double standards that we see around us. At the surface it takes a fun jab at animal lovers who are meat eaters. At the core of it, Dog and goat represents the privileged and the underprivileged respectively.
The song has series of interesting small episodes that have funny & creative visuals. Vegans, vegetarians and non-vegetarians who dont call themselves animal lovers, would totally love this song, while the meat eating animal lovers might find it edgy.
The song has a laid back hiphop/trap groove, with some interesting music elements while the hookline "Good Naai Bad Aadu" is hummable and catchy. The song starts off on a subtle note with funny lines and transcends to powerful verses.
MKB is an Indian playback singer who has sung over 200 Indian films and Good Naai Bad Aadu is his first original which is released by the iconic Saregama Music label.
The song released a week back and has been viewed around a million times on Youtube. If you are sensitive meat eating animal lover, you might want to stay away from the song  But in totality, the music world needs more songs like these that is beyond love, dope or the F***
Official Music Video – https://youtu.be/8GajvNFO1YU
Apple music – https://music.apple.com/in/album/good-naai-bad-aadu/
Spotify – https://open.spotify.com/track/1Ii0aTAYOKFOyCrMpJzzMo?si=9WAKiGbURNq7Kj9Lb-qM8Q