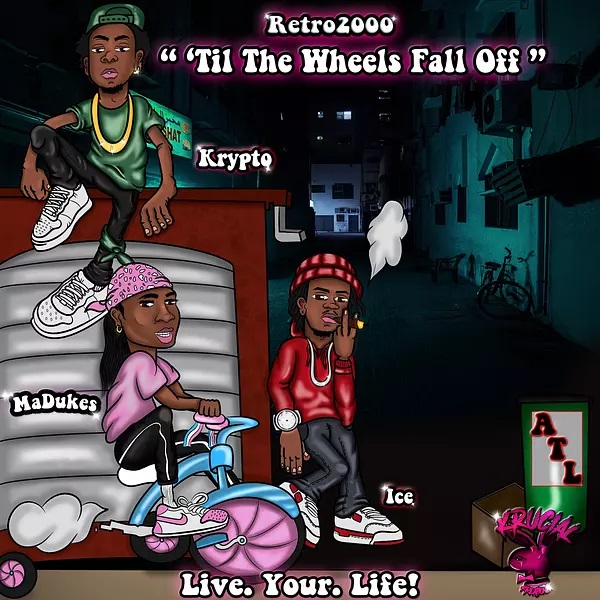 ATLANTA, GA – A caricature captures three people standing in an alleyway–one character, in green, stares ahead and sitting languidly on the rooftop of a garage; the other stands to the right, smoking, as the third person's bike tires leave smoke speeding past–the back wheels left behind. This is Retro2000's cover art, showing off members Krypto, Ice, and MaDukes, and represents the hip-hop group's melding of time within their mult-era influenced sound on debut single "'Till the Wheels Fall Off."
Retro2000's Madukes has been rapping most of her life, living up in Gary, IN before relocating to Atlanta. Her rapping style generates a sonorous movement—slick bars turn listeners on to a significant message that is stylistically reminiscent of '90s hip-hop. Ice says he naturally gravitated towards rapping, describing his style as a rugged street vibe. Krypto's interests are similar, but says he likes to mix both elements of the hip-hip that Ice and MaDuke's work with, adding in an interest in early to mid-2000s rap music citing Young Thug and 21 Savage as influences.
Era blending is a massive element of Retro2000's vibe, even its name representing all three members' goal to take on all sides of the coin—the 90s hip-hop style that brings a message, the rhymes of modern rap's levites, and the word play of hip-hop precursors such as Gil Scott Heron or the style of groups A Tribe Called Quest or Digable Planets. But Retro2000's style is all their own–creating the term "Thug Inspirational" to describe it, yet providing a similar representation.
"Thug Inspirational means we want to talk about trying to persevere and do the right thing but at the same time," explains MaDukes. "We're not saying our shit don't stink, but we're just trying to be more thought-provoking and making people think about the repercussions that come behind some of those pleasures."
"'Till the Wheels Fall Off" plugs into the Thug Inspiration mantra. Originally titled "Gladiator" Madukes had written the single with no intention of releasing it,at a time when she felt like she wouldn't rap anymore and it was never supposed to be put out. It was MaDuke's manager that encouraged its release and teamed up with Ice and Krypto to put it all together, and mixed by Grammy-award-winning engineer Mike Wilson.
"Out of the blue we just collectively came together and got this song and put the song out there," says MaDukes. "The fact that Mike backed it gave us the validation we needed to say okay, we might be some good. Let's go out here and do it."
MaDuke's experience growing up in a gang-related environment inspires the words to "'Till the Wheels Fall Off" as does all three Retro2000 members' current lifestyle–bringing in persistence, faith, and hard work into their lives and their music, hence MaDuke's line "I'mma rock it till the wheels fall off." A rhythmic wordplay paints the rest of the anthem alongside a beat that reflects ATL hip-hop of the past and present, and presents exactly what Retro2000 wants the world to hear, also using the hashtag #r2kATL to show what they've got.
"We've always tried to formulate a sentence and be like, maybe I can make this sound good," says Krypto. " But we have to really start taking the experience seriously. So the last couple months we put a couple of songs together and had a couple ideas formulating."
Retro2000 are continuing to formulate building momentum with "'Till the Wheels Fall Off" but be sure to hear more news from the group on all social media and streaming platforms.
Amazon Music: https://www.amazon.com/dp/B09VFH2W2W?tag=fndcmpgns-20
Apple Music: https://music.apple.com/us/album/til-the-wheels-fall-off-single/1613988105
Spotify: https://open.spotify.com/album/0qvIwcRLvbEOQop23IbAMd
YouTube: https://www.youtube.com/watch?v=m9sOonib7n8
Facebook: https://www.facebook.com/r2kATL/
Instagram: https://www.instagram.com/atlretro2k/
Twitter: https://twitter.com/R2KATL