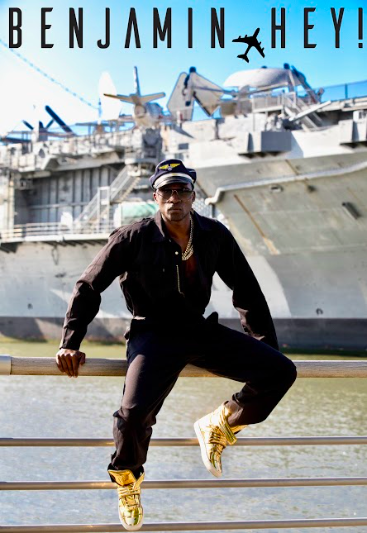 On April 15th, 2017, Benjamin Hey! took on a daily songwriting challenge. The NYC-based artist and producer, who was then working as an actor and model, has written a song every day since.
"It's like one of those situations where I thought I was done with music, but it wasn't done with me. So I decided to just try it again. But this time around, I said to myself, I have to have fun, so I can't take myself too seriously. Whatever songs come through, I'm going to write it—if they are good songs, bad songs, if they're serious, if they're silly, I'm just gonna create it and not judge it. It led to me just doubling down on my commitment," explains Hey! "I didn't plan on writing a song every single day for over five years. It just happened."
Hey! started writing music in 2008 as an independent artist. Feeling that music had been following his various paths serendipitously—taking acting courses that always ended up having singing involved—he decided to return to music-making after a 30-day challenge that was brought to his attention by a friend who was a contestant on The Voice. The friend ended up with 4 songs, while Hey! wrote 22 songs. He soon reached out to a producer friend in L.A. (Jonny On The Rocks) and started production on those 22 songs.
That soon led to writing and producing "Beat For The Gods" by actress Laverne Cox, which reached no. 41 on the Billboard Dance Club charts. That pushed Hey!'s energy threshold to songwriter even more, but this time having fun with that drive and creating music with an organic heart.
"It's a journey where I'm learning to just be open, be flexible, and especially with writing a song every day, I never know what the subject matter is going to be, but I do show up to write it when it does drop in," says Hey!
In another cosmic shift for the artist, after traveling to Puerto Rico to visit friends, Hey! ended up filming a music video. Word of mouth led to connecting with musician John Beyer, leading up to a writing and collaborating partnership that produced tracks such as "Powerless" and Hey!'s latest tracks "No Samples" and "RA-TA-TAT-TAT." While Beyer's musical influences ranged from balladeers, crooners, and classic rock, the pair managed to meet in the middle symbiotically and have maintained their musical partnership for 3 years.
"No Samples" is about not compromising when one knows what they want, written during the COVID-19 quarantine when Hey! was feeling isolated.
"I got through most of the pandemic by myself, then I said, okay, if I'm gonna want those things, and I do want love in my life, I'm not trying to settle for it. I want the steak. I want a 5-course meal. I don't want no Happy Meal." he explains, then quoting the song's lyrics with a beat reminiscent of old-school R&B, "I'm holding out for something special and amazing."
"RA-TA-TAT-TAT" is an anti-gun violence track co-written with Beyer. Since Hey! had grown up in the projects in the Brooklyn neighborhood of Red Hook, he'd initially been resistant to releasing the track that's lyrics run dark. But just like his openness as a songwriter on his other tracks, he wanted to embrace "RA-TA-TAT-TAT" and realized its significance. Hey! soon had the hook for the song and its structure.
"As much as I did not want to touch it, it's important because it's a problem. We need to hear more songs that are anti-guns that have the recognition of the problem in all the major cities it's happening in," says Hey! "When we wrote the song, it was definitely geared towards inner city violence, black-on-black crime. But as we know now, bullets don't discriminate, and this song is for everyone that's been affected by gun violence."
Since its release, Hey! and Beyer have performed the track at Spotify headquarters, and it has reached over 100,000 streams on the platform. Hey!'s daily songs are also leading him to a future EP release and continuing his songwriting partnership with Beyer—including what they describe as a potential hit track, titled "Money Girl," a female-empowerment song about financial independence.
Benjamin Hey!'s journey over the past 5 years has led him to a lush music career–embracing opportunity one song at a time.