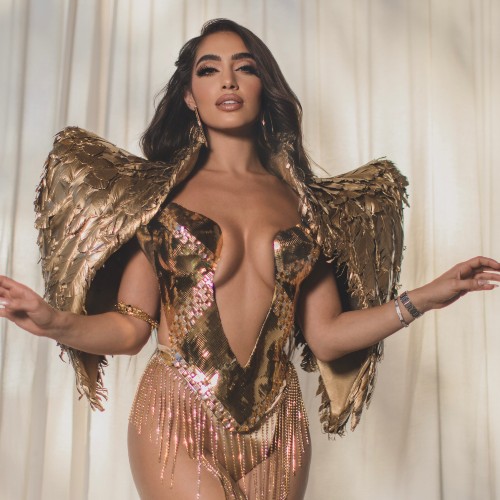 Every so often an artist comes along who possesses unique qualities and skills that puts her in a league of her own. It's no secret that Inas X, AKA The Trap Princess Jasmine, is one of the most talented independent recording artists on the music scene today. Charisma is defined as a special magnetic charm or appeal. If you spend just five minutes in a room with Inas X, you will see that it's evident that this entertainment phenom possesses the certain je ne sais quoi needed to become a world class star. She is best known for her singles "Love Is," which reached No. 12 on the Billboard dance charts, and "Stupid" featuring the late Rap star PnB Rock.
There's always something refreshing about artists who feel comfortable in their own skin. At a time when there is a blur between creativity and mediocrity, Inas X is on a mission to redefine R&B/Pop music with authenticity. Her bombastic style and unique brand of Pop music ranks her alongside contemporary Pop stars like Doja Cat, Nicki Minaj, SZA, and Ariana Grande. Inas X has music running through her veins. Equally important, she has honed a refreshing style that combines party vibes with life issues and food for thought. Her intense energy and undeniable flair capture her listeners. Her most recent single "Playing With Fire" hit #9 on the Itunes R&B Charts.

The Brooklyn born "Middle Eastern Goddess" takes great pride in her Palestinian heritage and she incorporates various Middle Eastern sonic vibes into her compositions. Her catalog of songs feels like a tapestry of sounds interweaving colors of Arabic music with R&B, Hip Hop and Pop. "I am so inspired by the beauty and strength within Middle Eastern culture. As an artist, that strength and resilience has kept me on my path and trajectory to success," states the songstress. Inas X works her magic in the studio and creates musical anthems that feature strong choruses that will stay stuck in your head for days. Writing intimate and semi-autobiographical portraits of love, power, lust, and energy comes easy to her.
Inas X's new business venture is called "Billionaire Boss Babe." She is on a mission to empower women globally and to be a dynamic role model especially for young Middle Eastern girls. Respect her grind and follow the movement. Log on to