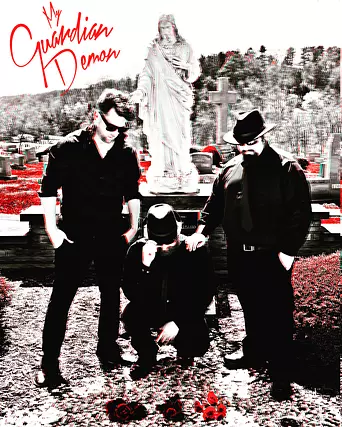 Throughout the second half of 2022, the hard rock band Blurred Vizion will be releasing a series of singles on the 6th of every month, leading up to the release of their EP My Guardian Demon.
The band is composed of three members: Joe Enlow, Brandon Olbeter, and Eli Olbeter. Brandon and Eli navigate the aftermath of a disease called retinitis pigmentosa, which had caused them both to go blind over the course of their lives.
Together with their longtime friend Joe, the two brothers have formed a band which delves into the difficult emotions of disability. The three seek to use rock to not only help others navigate their emotional troubles, but also to inspire others – disabled or not – to realize their life's potential.
Growing up, Brandon and Eli found themselves drawn to the heavier sounds of rock. Inspired by Metallica, Black Sabbath, and Iron Maiden, the two developed an affinity for the openly loud and emotive sounds of heavy metal, developing their own musical styles around it.
Eli plays the drums and Brandon plays guitar and bass. Both are self-taught, each having to invent ways to play their instruments without seeing. They became rock musicians by ear, originally mimicking the sound of their favorite bands before learning how to compose.
Eli says, "It was a whole process not being able to see and still being able to play the drums. But I heard my brother Brandon playing the guitar and got really into what he did. When I got a drum set, we started jamming together and we've been playing hard rock ever since."
The two brothers both became members of another band, who had hired their close friend Joe as part of their road crew.
Joe had helped the band over the years while maintaining a separate presence as a rap-rock artist, influenced by Linkin Park, Rage Against the Machine, and Limp Bizkit.
As the three worked together, they formed the group Blurred Vizion with Joe as the front man on vocals.
Joe says, "We try to express the kind of darker emotions and anger that comes from struggling. Even though I'm not disabled, I can relate to the emotions the two brothers feel. We'd like to help spread awareness to not just the blindness, but the mental health issues people with disabilities face in general."
On June 6th, the band released their first single "Torture", expressing the self-doubt and anxiety people face while lost in navigating life.
"Torture" explores the mental health aspects of blindness, serving as an open outlet for the three to voice the harsh feelings they have faced in their lives.
The single's harsh sound presents with intensity the trying struggles disabled people face. It can be difficult to find value in oneself when one comes to define themselves in terms of what they can and cannot do.
But here, the band voices their feelings to give people a way out. There are other forms of potential aside from ability.
Brandon says, "We want to show the real side of things in our music and art, and kind of speak a truth to the emotions people are facing right now."
Eli expands, "Yeah, because our lives are not easy. The day to day is hard. But we want to show that to people. That we don't let our disability knock us down. And you know, with hard work, motivation, and the right mindset and attitude, you can do anything whether you're disabled or not. We try to inspire people to not let disabilities, or anything for that matter, definite how you live your life."
Upcoming, the band will release the singles "Hate Me" on July 6th and "Tethered Noose" on August 6th.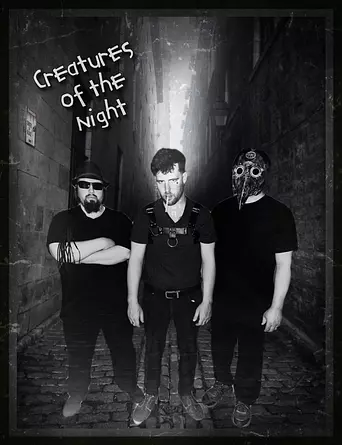 More singles will come monthly every 6th, leading up to the last single "666" on November 6th. November 6th is also the release date for the EP My Guardian Demon.
The singles "Torture", "Tethered Noose", and "666" will be accompanied with music videos, featuring the stories of the three, and the emotions each member faces.
Eli says, "Each track highlights a different emotion. I'm really excited for it all to be out there."
Brandon, Eli, and Joe are also active with the organization Foundation Fighting Blindness. The foundation seeks to find a cure for retinitis pigmentosa and other eye diseases and raises awareness for issues affecting blind people.
Brandon says, "Yeah, we've been working with the foundation for a number of years now, helping with their studies and bringing awareness for what they do. One of the biggest things for me and Eli is to try to find a cure for this disease and put an end to it."
The band is currently taking orders for merchandise to help the foundation. They are selling shirts and keychains featuring the band's logo for $30, or keychains alone for $10. Proceeds will be split 50/50 between the band and the charity. The band will be taking orders directly over social media or via Shopify at blurredvizion21.myshopify.com
Lastly, the three wish to share the belief that anything is possible.
Eli says, "The goal is to make an impact on the world, for people to see our story. We're good people trying to do good things here. We try to bring awareness towards good causes, but most of all, we also try to inspire people that you can do whatever you put yourself to."
He continues, "We do that by showing the real side of things. The things that aren't pretty with what people feel. Because people need to hear those things to realize that they aren't alone."
Be sure to stay connected with Blurred Vizion on all platforms for new music, videos, and social posts.
Spotify: https://open.spotify.com/artist/3GP6F0UiEb8Ucf08Sz9Gaf  
YouTube: https://youtube.com/shorts/IQvRDEDyyJ8?feature=share  
Facebook: https://www.facebook.com/Blurred-Vizion-109740658089580/  
Instagram: https://instagram.com/blurredvizion21?r=nametag  
Twitter: https://twitter.com/blurredvizion21?s=21  
TikTok: https://vm.tiktok.com/ZM879QkAJ/  
SoundCloud: https://soundcloud.app.goo.gl/AX85CzfkM8X7WtQt5 
Merchandise: https://blurredvizion21.myshopify.com/