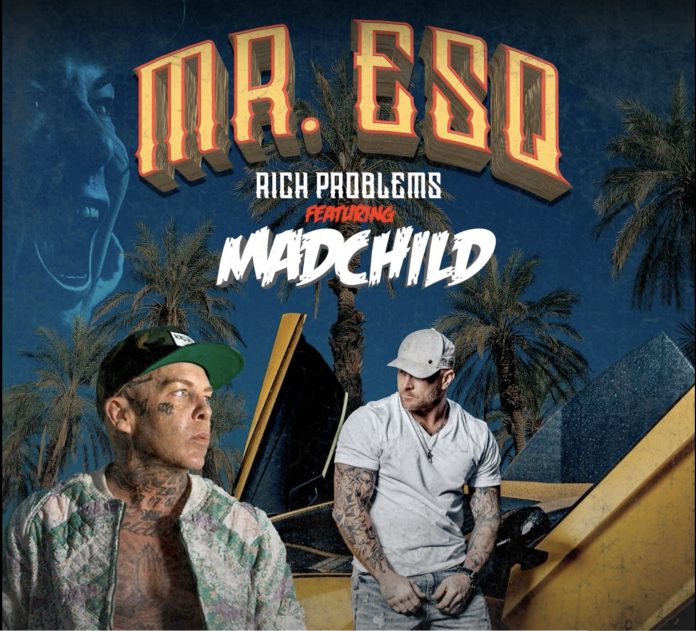 VICTORIA, CANADA – For rising star Mr. Esq, the night that set him on the path to finding his voice in hip hop was also the night of the biggest mistake of his life. Eighteen years old and heavily intoxicated in the wake of his infant son's death, he got into a street fight. He landed one punch and his victim hit his head on the ground when he went down. Mr. Esq blacked out and woke up in chains facing manslaughter charges. He would eventually be sentenced to ten years in federal prison for aggravated assault.
Mr. Esq says that moment was a wake-up call. He vowed to never drink again and has been sober ever since. He used his time in prison to focus on how he was going to be a better man on release.
"Inside you come across a lot of situations where you either go one way or the other. You come across people who know they're never getting out, so they figure, why change? But there's guys like me who decide they never wanna walk that path again," he says.
He was released on parole after seven years and began turning his experience into music.
"I followed my release plan. I'm a productive member of society, raising my little girl," he says. "I utilize a lot of my history and mistakes in my music as a deterrent for up-and-coming artists and kids in difficult neighborhoods."
For all that Mr. Esq has matured since his teenage years as a drug dealer and wheelman for gangs, he still brings his origins into every aspect of his music. The "Esq" stands for Esquimalt, the rough-and-tumble town on Vancouver Island where he grew up.
"I'm a product of my neighborhood. It's gotten a thousand times better since I was kid, 'cause they cut a lot of guys like me out of the neighborhood," Mr. Esq says.
His major-label debut from Predominant studios, "Esquire," coming out in July, features those stories across 20 tracks that range from club bangers to real issues songs about Mr. Esq's own experiences with drugs, crime, and prison.
"This is my eighteenth studio album, but it's my debut album with an actual label. I wanted to use it as a reintroduction and touch on a lot of things that people are afraid to talk about," Mr. Esq says.
Lead single "Rich Problems," featuring Madchild of the top-selling Canadian hip hop group Swollen Members, is a party banger about aspiring to make it big and the problems that come with it.
"'Rich Problems' is one of those songs that wasn't really planned. Madchild just pulled up in a G Wagon and I said, 'You got rich problems,'" Mr. Esq says. "Rich problems are something I would like to have. One day I'll get that Drake money.
"I come from nothing and a lot of people come from nothing in this world. When you work hard and you start to do well, sometimes people look at you sideways like, 'now that you don't need to hustle, you think you're better than us.' I don't think like that. It all depends on your perspective of what makes you rich. I'm rich in family."
Also making waves on streaming platforms is the album's second emphasis track, "A Mother's Day," an ode to Mr. Esq's mother.
"I wanted to do a song for my mom for all the shit I put her through. It's a shout-out for all the moms out there. It's a blanket statement for all women who've given birth that we appreciate you," Mr. Esq says.
"Esquire" is just the beginning of Mr. Esq's 2022 hustle. He's already working on his next projects with other Victoria artists, and an upcoming collaboration with Death Row Records' Merkules. He's also planning to release music videos and tour around Vancouver Island.
"Not a day goes by that I don't write something down or collaborate," he says. "It took a long time to get to where I am and I'm not gonna slow down now."
Make sure to stay connected to Mr. Esq on all platforms for new music, videos, and social posts.
Instagram: https://www.instagram.com/harrison_mr.esq/
Facebook: https://www.facebook.com/harrison.mresq.7
Spotify: https://open.spotify.com/artist/3PFvR6hD2fa1pCuV4cHHpC
Apple Music: https://music.apple.com/ca/artist/mr-esq/1376354174
YouTube: https://www.youtube.com/c/MrESQ