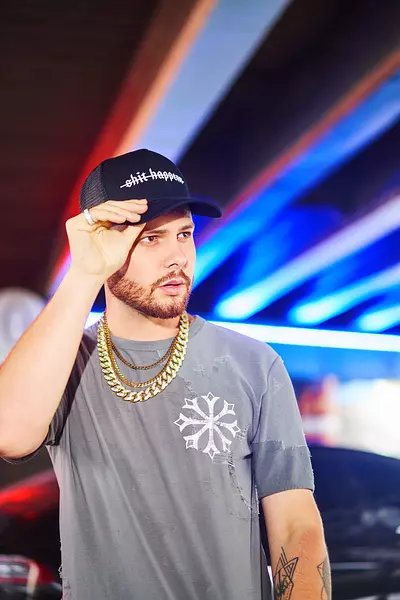 After surviving a difficult past – overcoming homelessness, the death of his brother, and drug addiction – MTStreets converts his life experiences into pop music for people in pain.
He weaves the lessons from hard-fought battles into lyrics so his music can be a medium to help others currently struggling.
Growing up in La Jolla, California, MTStreets began his music career as a producer. He was originally drawn to music as an escape from Tourette's Syndrome, and was recognized early on as a child prodigy on the piano before becoming a producer for his younger brother.
He accompanied his brother on several projects, witnessing his brother's meteoric rise as a trap artist. On the way up, MTStreets developed himself alongside many industry greats, working with Cicero from 808 Mafia as well as many others from Gucci Mane's 1017 Records.
Just when big dreams started coming true, MTStreets suffered the devastating loss of his brother. "One moment we were strapped on this rocket ship heading to fame and fortune, the next moment the rocket exploded," MTStreets said. "He was not only my brother; he was also my best friend. He was the one for whom I would take a bullet." After a few months of heavy grieving, he felt the need to carry his brother's torch and decided to become an artist himself. He now finds solace in his brother's motto, which was present as a logo on all his brother's music and now it appears on all of his: NBF is short for 'Nothing but Family'.
After working on a few projects as a rapper, MTStreets turned towards becoming a pop artist, creating Post Malone, The Weeknd and Charlie Puth-like sounds he says feels are truest to himself.
Talking about his rap career, he says, "It got to a point where I was trying to do things for the wrong reasons. I felt like I was trying to be my brother, to fill his shoes rather than wear my own. After taking some time off, I realized I could best honor him by staying in a lane that feels right to me, one where I can write powerful lyrics and overlay them with pop sounds that also respect hip hop and rap. My aim is help people in pain through my music. If I can do that, then I know my brother will live on through every beat and verse."
His first pop single, "Highway to Hell" featuring Nova Blisto, guides listeners through dark times. "Highway to Hell" tells of a period when MTStreets battled addiction and had to forge his own path to survive loneliness and pain.
MTStreets says, "Looking back at that time, I felt so alone, even when I was in a crowd. Many people truly cared about me and yet somehow it felt like I had nobody to talk to, nobody who could really understand what I was going through. There's a helpless and hopeless aspect to addiction. I needed help, but I couldn't or wouldn't ask for it. And worst of all, I didn't really care about myself. Having made it through that hellacious time, I thought I could help others by telling my story in the form of a song."
"Highway to Hell" expresses his life in the past tense, using the metaphor of a highway to tell of the swirling spiral between rehab and relapse that he experienced several times. Both melodically and lyrically, the song carries heavy grief and heartbreak as MTStreets confronts himself and his past.
Written originally in response to photos he saw of himself during his addiction, the song also communicates across time, looking at himself in the present. It exposes the experience and wisdom gained as tragedy is triumphed, that the challenge of survival is winnable.
He says, "It wasn't easy, but I made it to the other side. I want everyone listening to the song to know there is a way out. Some people listening might be in the throes of their own addictions, others may have a loved one or friend who is. I want everyone to know that they are not alone. I understand how hard it is. I understand that change feels scary. But I also understand they can get healthy and win. They don't have to live in hell."
His two most recent singles, "Driftin' Away" and "Just Friends" tackle the difficulties of love, also serving as guides for listeners.
"Driftin' Away" focuses on how time separates people from each other, asking listeners prodding questions to help them hold onto love in the present. "Just Friends" focuses on the frustrations of failed love, telling of an experience being led on and then dumped into the friend zone.
For the rest of the year, MTStreets will be releasing singles every three weeks leading up to his full-length LP, with his collaborator Nova Blisto, scheduled to be released on June 12.
Each single is tied to the theme of overcoming, with his next single "ETA" due to be released on April 15, and "The Message" slated for May 5. During the second half of this year, you will find MTStreets performing live in Miami, Los Angeles, Las Vegas, and New York.
Be sure to stay connected to MTStreets on all platforms for new music, videos, and social posts.
Amazon Music: https://music.amazon.com/artists/B07F4WLNY9/mtstreets
Apple Music: https://music.apple.com/us/artist/mtstreets/1405691143
Soundcloud: https://soundcloud.com/mark-rhodes-13
Spotify: https://open.spotify.com/artist/2F3QTcv7P4TxveL1tDeXmL
YouTube: https://www.youtube.com/channel/UC6q2VH0hsuxsayojntg-qGg
Facebook: https://www.facebook.com/prodmtstreets/
Instagram: https://instagram.com/mtstreets_official
Website: https://mtstreets.com/