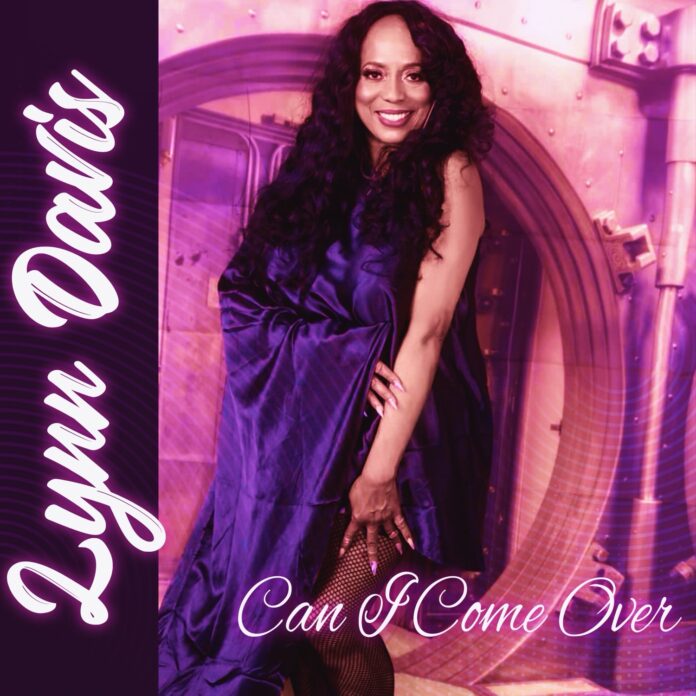 Lynn Davis grew up listening to the greats of R&B and soul. Beginning as a teenager she became one of them, and for four decades she toured the world and performed with them.
With "Can I Come Over," the debut single off her upcoming album Lynn Davis: From the Vault, she is back, coming out of what she calls semi-retirement to sing the music she loves.
"Can I Come Over" is the story of two lovers whose travels keep them frequently apart, but one night the singer decides to call her lover up and ask, "Can I Come Over," and the classic R&B ballad unfolds in Lynn's rich, warm voice.
She loves the modern performers of R&B and soul, she says, but, still, a recent release had her asking herself, "Where is R&B?"
"I mean, it was a great record. You know? But I miss Luther, and I miss Stevie," she said. Lynn was talking about Luther Vandross, and Stevie Wonder directly, but the conversation made it clear she was also thinking about George Duke, with whom her career started when she was a teenager.
She was thinking about Marvin Gaye, Chaka Khan and many, many more of the greats she toured the world with during the time when she was one of most accomplished and successful session singers ever.
"I miss real R&B, soul, love music," she said, and thinking about that recently sent her to the studio in her house, where she has thousands of cassettes from her career.
"I went through them and I said, 'Listen to the songs that I have.' And I thought, 'I've got to continue to honor my gift even though I'm in semi retirement.' I still sound good, I still sound young, I'm still kind of sexy at this age, you know?"
Having made the decision to get back into music, she decided to do it through her own record company, Bella Records, which she formed at the beginning of this year. She began the work of learning how to run her own company in the digital music world – organizing, putting together the pieces of a video, marketing, PR.
"And so, as a team of one, I ventured into this new climate of everything digital, online, technological. It's not like it was back in the day that you need a record company. You can do it yourself," she said. "And I love that. I could have control over my music and nobody wanted me to sit on their lap."
Her previous career was not only as a highly sought-after session singer. She wrote songs for artists such as LaToya Jackson, Patrice Rushen, Tracie Spencer, Thomas Anders and others.
As she talks, it becomes clear, too, that another motivation for her is to honor the people with whom she sang, wrote music and performed. Stevie Wonder, for instance, paid for her vocal training with the legendary teacher Seth Riggs.
"Stevie didn't have to send me to Seth Riggs," she said. "He didn't have to sit down and listen to my songs and give me pointers. He didn't have to do that. But that's who he is, you know?"
George Dukes asked the 17-year-old Lynn Davis to tour with his group and mentored and nurtured her career right up to his death in 2013.
And in starting her new career, she said, in the process of learning, she was struck by the realization that she needed to get on the phone and "thank some people."
"And Stevie was one of them," she said. "So I texted him the other day, and I said George is gone, you're still here, you guys are my mentors and the people through which God used and funneled a lot of blessings for me, and I just want to say thank you."
And then there is, for the preacher's grandaughter who didn't date until she was 21, the spiritual side.
"I thought that it was really not cool for me to have all these great songs, and still be able to sing, and not do it," she said. "It was a blessing to be where I am at this age right now. I needed to do this, I really needed to do this, and wanted to do this, and felt like this was part of my reason for being here and an honor to God as well."
Lynn Davis: From the Vault will be out early next year.
"I'm gonna put this music out," she said, "and I'm gonna let the people decide."
Stay connected to Lynn Davis on all platforms for new music, videos, and social posts.
Website: http://www.lynndavismusic.com/
Apple Music: https://music.apple.com/us/artist/lynn-davis/1648540886
YouTube: https://youtube.com/channel/UCHZK6U50xhzpvXfhBF2TFSA
Facebook: https://m.facebook.com/lynndavismusic
Instagram: https://instagram.com/lynndavismusic